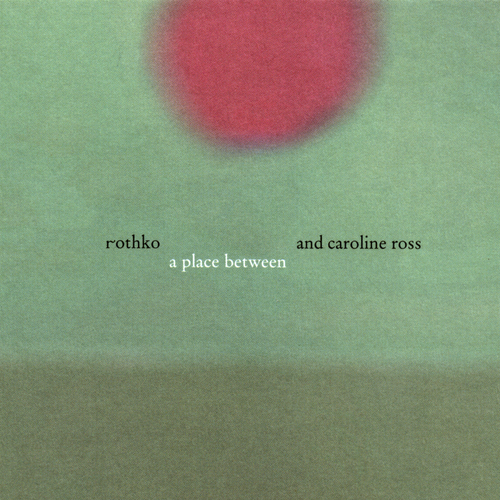 A Place Between
Available Formats
Tracks
Price
Buy
CD Album
11 tracks

£

9.99

Download Album (

MP3

)
11 tracks

£

7.99

Download Album (

WAV

)
11 tracks

£

7.99

Download individual tracks
From £0.99
Description
Rothko and Caroline Ross - A Place Between
The quietly intense Rothko have long been one of the more interesting acts skulking around the periphery without ever getting the recognition they deserve. Having long foregone their original three basses line-up in favour of Talk Talk style mimimalism, Rothko is now the solo concern of Mark Beazley plus Scottish songstress Caroline Ross, who guested on previous album 'A Continual Search For Origins'. Recorded in Ross' isolated Aberdeenshire farmhouse, 'A Place Between' is possibly Rothko's most spartan release to date, its ambient bass runs are punctuated by rippling pianos and Ross' whispered vocals. Bleak, but not depressing, it has a wonderful sense of space and loneliness about it, a certain womb-like quality that doesn't hit the hights of their Susumu Yokota collaboration a couple of years back, but is perfect for drifting off to on a dark and rainy night.

Neil Gardner, Rock Sound – April 2005

Six albums in and Mark Beazley's muse is undiminished by the passage of time. 'A Place Between' is awash with his signature weightless, yet arresting, sonic textures and succeeds in conjuring the otherness of the album title. It seems that Beazley has found a perfect foil in the fragile melancholia of collaborator Caroline Ross' words and vocals.

Rothko have always succeeded in conveying intangible emotions, standing apart in a field that often leaves the listener faced with faceless electronics and new age moves cloaked in experimental shrugs. The bass-led Rothko sound remains but the tumbling notes and deceptively simple motifs showcase Beazley's ear for melody

and his ability to tap into the emotional heart of his compositions, tugging on the heart strings as much as the unfolding instrumental arrangements of Van Morrison's 'Astral Weeks' pull the listener into another place entirely. And 'A Place Between' is full of musical surprises too: dignified double bass covers An Open Breath, harmonica and piano lend Bow a sense of 'Sister Lovers' tragedy and the rippling piano

lines and electronic swell of The Northern Lights Are Out flow from the same spring as Florian Fricke's most atmospheric Popol Vuh recordings.

On the emotive strength of Ross' and Beazley's collaboration on 'A Continual Search For Origins', this full-length pairing was inevitable as Ross's voice and flute complement the unfolding compositions beautifully, adding a

secretive, confessional allure to the

proceedings: particularly startling is the impact of the blink-and-you'll-miss it album closer, Elements of Traces.

'A Place Between' is another Rothko arrow shot straight into the heart, recorded in snow swept environs and capturing the beauty and complexity

of a whirling snowflake adrift in the breeze.

Simon Berkovitch – Comes With A Smile – www.comeswithasmile.com

An absolutely beautiful album, the most pleasantly surprising new release we've had in this year – a must for all lovers of evolved, inspired home listening music. With only Mark Beazley left from the original 3 bass line-up, Rothko has teamed up with Aberdeenshire's Caroline Ross for 'A Place Between'; a candidly intimate record structured around Beazley's bass and Ross' vocal and flute mastery. Opening with the thick and swampy bass of 'Traces of Elements', what at first seems head crushingly claustrophobic is soon revealed to be expansive and welcoming as Ross' supine vocals puncture the skin. As the song develops, Beazley's time spent collaborating with Japan's ambient maestro Susumu Yokota becomes clear to see with the closing minutes of 'Traces of Elements' indispensable to those who soaked up 2001′s 'Grinning Cat'. 'Divided Lines' follows on with a darkly optimistic pairing of bellicose piano and leaden vocals, whilst 'An Open Breath' soars into a breathless lucidity. Although it would be easy to classify 'A Place Between' as dark hearted fragile folk akin to Bert Jansch, its many textures defy pigeonholing with 'The Only Way Out is Through' existing somewhere between several genres – this is intangibly delightful that's as moving as it gets. Wonderful.

Boomkat – www.boomkat.com

Yesterday, I was very hung-over; spending an evening drinking whisky with my father had left me clinging to my bed, waiting to implode, which would have been a welcome experience if only to stop the lumpy shaking and enthused saliva production that my body had undertaken. Small burps became tightrope ordeals, and even rolling over required considered preparation. Hence, my usual Saturday regime of loud noise and secret dance-parties (of which I am DJ, sole-dancer, and by default, bestest dude there) was abandoned in need of muted sensation.

Zero 7? Too many words. Four Tet? Not enough. A mixture of the two? Surely I'm not that lucky? See where this is going kids? That's right, Rothko's here and he's brought big balloons full of ambient noise, and tagging alongside is lovely Caroline Ross, with rhymes that don't rhyme, but who cares, its ambient. So, still clinging to my wonderfully inviting bed, I play A Place Between hoping for some sonic cuddling.

With instrumentation that rarely raises the heartbeat-like bar, Rothko (aka Mark Beazley) creates a lush, yet shiny platform for Ross' fragile vocals. The whole thing sounds as though it was recorded inside a surgeon's igloo; the album is cleaner than bleach. There is no hiss, no crackle, and never does a track surprise you with anything more than a flute.

I played this album three times continuously as a lay on my bed, thinking of friends new and old, wondering which ones ever really liked me, and which simply endured me, and which attributes made my lesser attributes more endurable. Maybe I should have put on some Kanye, he'd have snapped me out of it…

Anyway, fabulous album, haven't really it played since the hangover, as with a clear head, the ambience is a little under-bearing; but if anything, Rothko and Ross have provided me a last line of defence in the ongoing battle with consequence.

Tracklisting
CD Album (LO50CD)
Rothko and Caroline Ross

- Traces Of Elements

Rothko and Caroline Ross

- Divided Lines

Rothko and Caroline Ross

- An Open Breath

Rothko and Caroline Ross

- Light In A Dark Place

Rothko and Caroline Ross

- The Only Way Out Is Through

Rothko and Caroline Ross

- Parts Per Million

Rothko and Caroline Ross

- Bow

Rothko and Caroline Ross

- An Open Vein

Rothko and Caroline Ross

- Even The Blank Leaf

Rothko and Caroline Ross

- The Northern Lights Are Out

Rothko and Caroline Ross

- Elements Of Traces
Download Album (LCD50)