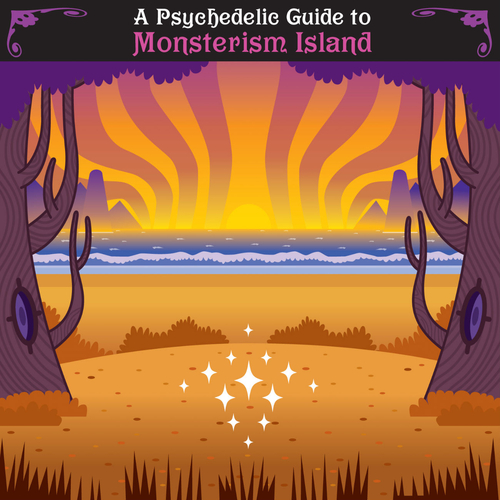 A Psychedelic Guide to..
Available Formats
Tracks
Price
Buy
CD Album
27 tracks

£

8.99

Download Album (

MP3

)
27 tracks

£

7.99

Download Album (

WAV

)
27 tracks

£

7.99

Download individual tracks
From £0.99
Description
Various Artists - A Psychedelic Guide to..
"Come, hold my hand and let me take you on a trip to a mythical realm. A realm where you will encounter all manner of strange and beautiful creatures…a land that will boggle both the mind and the eyes. Oh, and there will be music… not music like you've heard before, oh no dear reader, but the most other-worldly, unusual and beauteous music – psychedelic surf salutations, acid jug band blues and spooked voodoo lullabies. Music created by myself and my fiends to make your trip to Monsterism Island a truly unforgettable one."

Pete Fowler's Monsterism Island has long been known as a musical cornucopia and an album full of esoteric musical treats makes perfect sense. This CD contains original compositions from some of the underground's most intrepid musical explorers. Spanning monstrous rock fry ups, electronic exotica via psychedelic folk and spooky krautrock, and featuring members of The Super Furry Animals (Gruff Rhys), Jerry Dammers, The Ukulele Orchestra of Great Britain (Peter Brooke-Turner), The Future Sound of London (Brian Dougans, Gary Cobain), Beyond The Wizards Sleeve (Richard Norris), Luke Vibert, Cherrystones, Circulus, Belbury Poly, The Advisory Circle and Wolf People to name but a few, who unleash their most creative tendencies to bring you the kind of music you would only hear on Monsterism Island.


Tracklisting
CD Album (LO74CD)
Intro

- Rum Cove

Monsters at Work

- Magic Morning

Marc Shearer

- Magma On My Mind

Belbury Poly

- Designated Wizard Practice Area

Luke Vibert

- Silver Snorse Hotel

Link 1

- Snyrds Rising

Jonny Trunk

- Nest We Forgot

Monsters at Work

- Fisherman's Jam

Wolf People

- Village Strollin'

Link 2

- Golden Blooms

Circulus

- Till We Merry Meet Again

Amorphous Androgynous

- Mr. Sponge's Groovy Oscillations

Gruff Rhys

- Wild Robots Power Up

Link 3

- Welcome to the Night

Squonjax

- Chocolate Skull

Jerry Dammers

- Empty Library

Richard Norris

- To All Wizards in Lockdown

Link 4

- The Purple Woods

Cherrystones

- Seven Thousand Pound Bee

Hardfeelingsuk

- Volcanic Dive

Tremortex

- Final Froog

Link 5

- Dreamer's Dream

The Advisory Circle

- Lair of the Grolfax

Richie Crago

- Wandering Black Holes

Nancy and Paddy

- Owl Ritual

Batfinks

- Crystal Hermitage

Outro

- The Call of the Horn
Download Album (LO74)