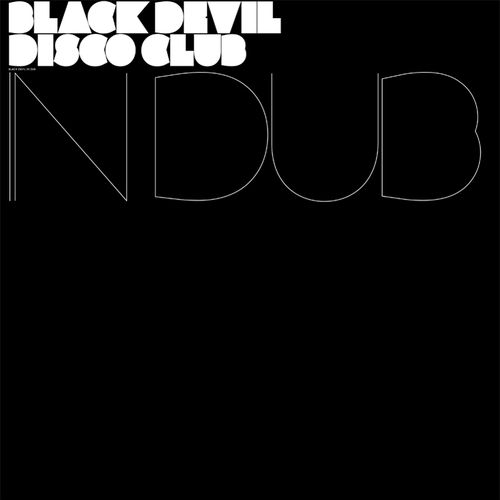 Black Devil In Dub
Available Formats
Tracks
Price
Buy
CD Album
12 tracks

£

7.00

Download Album (

MP3

)
12 tracks

£

7.99

Download Album (

WAV

)
12 tracks

£

7.99

Download individual tracks
From £0.99
Description
Black Devil Disco Club - Black Devil In Dub
Hot on the heels of the incredible '28 After' album, Black Devil return with their sinister, psychedelic disco sound which recalls both Joy Division and Giorgio Moroder.
Containing 6 electronic 'dub' versions of the album tracks by the Devil himself plus 6 by some of the Devil's biggest fans who just happen to be some of the best exponents of the cosmic nu disco sound.


The album pushes the sonic envelope far out into deepest realms of cosmic disco exploration.


Elitechnique fresh from their remix for Alden Tyrell and 12" on the mighty Clone label, turn in an absolutely storming euro monster and what's this the vocals are now in French? Suitably bizarre!

The mighty Prins Thomas stretches the original out into an elastic tripped out space monster.
Brooklyn's finest, the illustrious In Flagranti turn in a chunky, deep and bumping mix that makes you want to wiggle and grin. NICE NICE NICE!

Quiet Village have been having it away all over the place recently, with incredible mixes for Allez Allez, The Gorillas and Cosmo Vitelli plus their always sold out, impossible to find releases on Whatever We Want. They produce a taut psychological thriller worthy of John Carpenter. This really has to be heard on a big system to be believed.


Black Mustang take you on a twisted Goblin like journey into the darkest recesses of the acid disco brain. Look out for their forthcoming 12" with Kerrier District and Sleeparchive.


And to cap it all Unit 4 aka Jupiter Black/Isolators turn in perhaps their deepest hit yet. A beautiful, brooding slice of 21 st century electronics.


Reviews
'silky-smooth,seductive italo disco. A truly essential purchase' Plan B
Number 3 - Soul Jazz Top 7 One Week To Live
'Massive…the holy grail of the cosmic nu-disco sound' EQ
'if you love Disco then get it. If you don't love Disco you've still got to get it. Get it?' 10/10 Future Music
'very dark, very mysterious, very hypnotic…trust me on this and buy it' M8
'hot wired, italo-nu/disco turbo-rush…unabashed hedonist-hallucino future-disco fever' ***** Update
'Awesome…brilliant sinister cosmic disco' One Week To Live
'a favourite amongst connoisseurs given a delirious makeover' The Independent.
A few words about '28 After':
'phenomenal…like Cerrone remixed by Martin Hannett' Other Music
'full-on Euro-disco...genius...irresistible'. - Pitchfork
'italo house archivists will chew their faces off for a copy of this astounding record' Dazed & Confused
'six incredible 'new' tracks from Black Devil' VICE
'beautiful… glitterball decadence' BBC Collective
'truly strange disco magic' Uncut
'like Lindstrom and Prins Thomas on very evil acid' I-D
Tracklisting
CD Album (LCD60)
Download Album (LCD60)
Black Devil Disco Club

- The Devil In Us (Dub Version)

Black Devil Disco Club

- On Just Foot (Dub Version)

Black Devil Disco Club

- Coach Me (Dub Version)

Black Devil Disco Club

- I Regret The Flower Power (Dub Version)

Black Devil Disco Club

- Constantly No Respect (Dub Version)

Black Devil Disco Club

- An Other Skin (Dub Version)

Black Devil Disco Club With Elite Technique

- The Devil In Us (En Francais) (Elite Technique Mix)

Black Devil Disco Club With Prins Thomas

- On Just Foot (Slide Inside version with Prins Thomas)

Black Devil Disco Club With In Flagranti

- Coach Me (Again And Again version with In Flagranti)

Black Devil Disco Club with Quiet Village

- I Regret The Flower Power (Fragments Of Fear Version with Quiet Village)

Black Devil Disco Club with The Black Mustang

- Constantly No Respect (The Phenomena of The Black Mustang Version)

Black Devil Disco Club with Unit 4

- An Other Skin (Days of Blackula version with Unit 4)