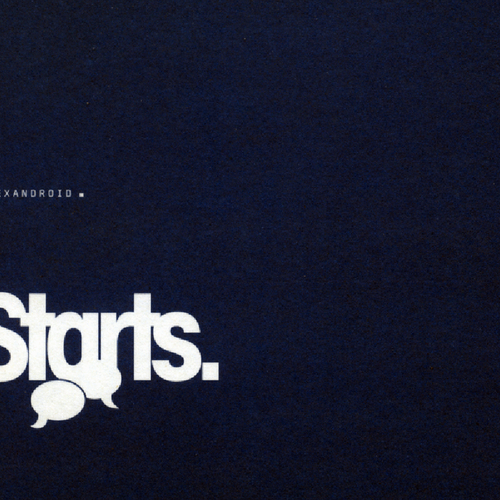 False Starts
Available Formats
Tracks
Price
Buy
CD Album
17 tracks

£

7.00

Download Album (

MP3

)
17 tracks

£

2.97

Download Album (

WAV

)
17 tracks

£

2.97

Download individual tracks
From £0.99
Description
Alexandroid - False Starts
Alexandroid starts to attract attention and makes the listeners happy from the very beginning, the first track "Ga Gain" with its acid keys and electro-drums borrowed from Kraftwerk.
"About life" turns more to brit-pop with emotional, catching vocalism of Alex Matrosov.

Track "80″ could be also heard on the split Lazyfish+Alexandroid – OS, it inspires the listeners by its final integral version. It's one of the most beautiful and sad tracks of the whole album, seems that the plot of the album is a submarine which will never come up from the seabed.

After dramatic "80″ comes the main headliner-track "Energy" with sincere, melancholical voice of the Estonian girl Kristi Aivare – …so come my friend become me…Very charming melody, touching the inner subtle matters of human soul – worth to hear once and remember all life long.

In this album the musicians managed to demonstrate the whole spectrum of their music from ordinary songs to techno-tracks, ultramodern electronics with serious content, simple presentation and visual installation. In truth, Alexandroid's music is simple and complicated at the same time. The same situation is in real life.
In fact this album could have never come to life, but thanks to the fortunate coinsidence and the victory in the competition of French radiostation Radio France it was born even despite the fact that the project almost broke up at that time. That's why the album has such an odd title False Starts.

In this album ambient slightly changes into techno, then electro, then brake-bit and ambient again – harmonious, subtle interlacings creating a new sound palette which reflects the surrounding world.
Perhaps in the future people will move through space and time with the help of music, after listening to this album such idea seems to be rather realistic. Very deep content easy for understanding.


Tracklisting
CD Album (LCD 43)
Download Album (LCD 43)
Alexandroid

- Ga Gain

Alexandroid

- About Life

Alexandroid

- Dera

Alexandroid

- 80

Alexandroid

- Energy

Alexandroid

- My Lovemixdown

Alexandroid

- Shopping

Alexandroid

- Yomas Envelopes

Alexandroid

- Debil

Alexandroid

- 000 Bluesky

Alexandroid

- Edinorog

Alexandroid

- Astrafilter

Alexandroid

- Comarovo

Alexandroid

- While I'm Sleeping

Alexandroid

- For After

Alexandroid

- Search

Alexandroid

- Warm War