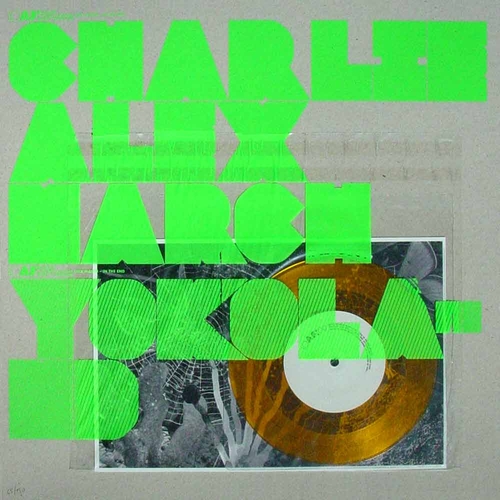 In The End
Available Formats
Tracks
Price
Buy
CD EP
4 tracks

£

4.99

Out of stock

7" Vinyl EP
4 tracks

£

7.99

Out of stock

7" Vinyl EP
4 tracks

£

5.99
Description
Charlie Alex March - In The End
The follow up to the critically acclaimed 'When the Clouds
Clear EP' , 'In The End' sees Charlie further developing
the notion of stripped down pop songs; songs, not tracks,
songs with an emotional sensibility that you don't hear
much these days.
'In The End' features four concise tunes, none longer than
two and a half minutes. The first of them is a cover of Dan-
iel Johnston's classic 'True Love Will Find You in The End', the
lo-fi arrangement of the original, replaced with lush strings
and delicate vocals. 'Piano Song' is reminiscent of Nico at
her most melodic, whilst 'Thinking of You', marries gamelan
clang with stately piano. The EP closes with the gorgeous
drfiting vibes of 'When The Clouds Clear', like Steve Reich
having tea with Ray Coniff.
"In The End' sees Charlie continuing his collaborations with
Joe Mount AKA Metronomy who produced the EP, High
Llamas member Dominic Murcott (string arrangements
and vibraphone) and The Elysian Quartet (Hot Chip, Simon
Fisher-Turner and Max De Wardener) who provide the lush
strings.
Charlie is currently finishing a remix for The Klaxons and
working on his debut album with High Llamas' main man
(and arranger extraordinaire) Sean O`Hagan.


Reviews
"It's a beautiful glockenspeil and string let instrumentals that
gently comes and goes in under three minutes. Delightful."
David Bowie
Tracklisting
CD EP (LOAF09)
Charlie Alex March

- In The End

Charlie Alex March

- When the Clouds Clear

Charlie Alex March

- Piano Song

Charlie Alex March

- Thinking of You
7" Vinyl EP (LOAF09+)
Charlie Alex March

- In The End

Charlie Alex March

- When the Clouds Clear

Charlie Alex March

- Piano Song

Charlie Alex March

- Thinking of You
7" Vinyl EP (LOAF09+)
Charlie Alex March

- In The End

Charlie Alex March

- When the Clouds Clear

Charlie Alex March

- Piano Song

Charlie Alex March

- Thinking of You