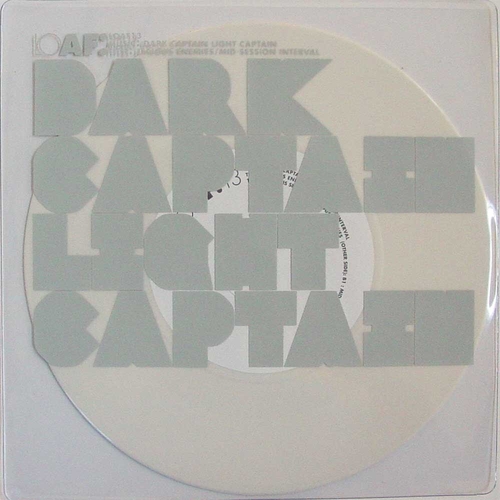 Jealous Enemies/Mid-Session Interval
Available Formats
Tracks
Price
Buy
7" Vinyl Single
2 tracks

£

6.99

Download EP (

MP3

)
2 tracks

£

1.98

Download EP (

WAV

)
2 tracks

£

1.98

Download individual tracks
From £0.99
Description
Dark Captain Light Captain - Jealous Enemies/Mid-Session Interval
East London's Dark Captain Light Captain came to-
gether in early 2006 fuelled by a love for folkish
sounds, black coffee and incessant late night bed-
room recordings sessions. A speculative myspace
page containing some early demos made quite a
few people happy, and just a few months into their
existence they found themselves featuring as co-
writers and performers on "Seven Sisters", the superb
debut album by German folk noir chanteuse Mile-
nasong. Countless London shows followed (includ-
ing a double feature at the LoveBox Festival in Vic-
toria Park) as well as appearances in Oslo and Berlin.
"Jealous Enemies b/w Mid-Session Interval" is the debut
recordings from the Captains, their unique (but strangely
familiar) textured sound and vocal harmonies is without
a doubt an indication of greater things to come. A follow
up single ("80,000 Reasons b/w Walls") will be released
in April with their debut LP scheduled for a May release.
Reviews
"Dark Captain Light Captain are beautiful, dense,
textured, slightly scary and constantly engaging"
Drowned in Sound
"It's gentle, massively understated, but its gets right in-
side your head and stays there" CMU Daily
""Think Beta Band meeting Ride, with Godspeed! You
Black Emperor and King of Convenience looking on
approvingly" TuneTribe (Dark Captain, Light Captain
Featured in Tips for 2007)
"... a beautifully delicate and deliciously fragile thing
of quiet breathless breathy, restrained, delicate, deli-
cate beauty" The Organ
"They manage to sound fresh and exciting while re-
maining strangely familiar, to retain the rough edged
quality of a DIY recording while sounding more than
competently produced and, all-in-all, win us over witha minimum of effort and a quiet, lackadaisical confi-
dence." Supersweet Magazine
"... and undercurrent of mystery and an idea of late
night idea scribbling and quietly strumming while the
world is sleeping nearby, perhaps even just through the
walls and not to be woken". 99x/10