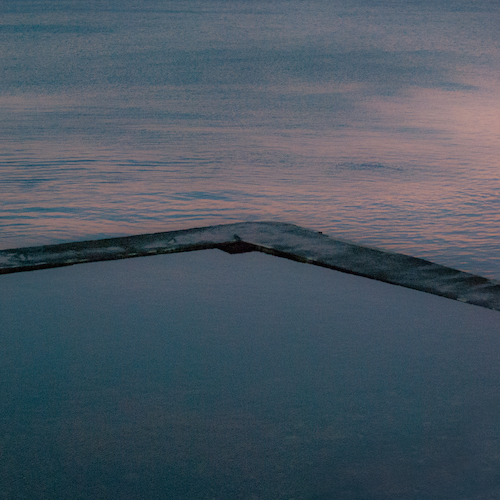 MDCNL
Available Formats
Tracks
Price
Buy
CD Album
5 tracks

£

9.50

Download Album (

MP3

)
5 tracks

£

4.95

Download Album (

WAV

)
5 tracks

£

4.95
Description
Simon Dobson - MDCNL
'MDCNL' was self produced and recorded over the last twelve months and is the eagerly awaited follow up to his 2015 debut 'Euneirophrenia'. Released on CD and available digitally, the new collection features five brand new haunting, modern classical compositions including the lead single 'Quiet, Pls'.

Dobson is best known recently for his collaborations with Anna Meredith, contributing to her Mercury Prize nominated 'Fibs' LP, and as principal conductor and arranger with the London based Parallax Orchestra which has seen him tour throughout Europe and conduct sell out shows with bands at the Royal Albert Hall; his studio work with the orchestra saw him work with Bring Me The Horizon on their UK No 1 'AMO' album in 2019 and ARCHITECTS on their UK No 1 album 'For Those That Wish To Exist' in March his year.

He also conducts and writes for Southbank Sinfonia, the Heritage Orchestra and Amsterdam's famous Metropole Orkest and has composed and performed brass and strings on nearly fifty albums to date with artists such as Architects and Sohn. In 2014 he wrote his first full-length film score The Battles of The Coronel and the Falkland Islands which was commissioned by the British Film Institute and received its premiere with fully-restored film in the Archive gala concert of the London Film Festival at the Queen Elizabeth Hall.
Reviews
...𝙢𝙞𝙣𝙞𝙢𝙖𝙡𝙞𝙨𝙩 𝙘𝙮𝙘𝙡𝙚𝙨 𝙩𝙝𝙖𝙩 𝙧𝙚𝙢𝙞𝙣𝙙 𝙢𝙚 𝙤𝙛 '𝙄𝙣 𝘾'; 𝙬𝙞𝙙𝙚𝙨𝙘𝙧𝙚𝙚𝙣 𝙫𝙞𝙨𝙩𝙖𝙨 𝙛𝙧𝙤𝙢 𝙩𝙝𝙚 𝙤𝙥𝙚𝙣𝙞𝙣𝙜 𝙨𝙘𝙚𝙣𝙚𝙨 𝙤𝙛 𝙖 𝙣𝙖𝙩𝙪𝙧𝙚 𝙙𝙤𝙘𝙪𝙢𝙚𝙣𝙩𝙖𝙧𝙮; 𝙚𝙢𝙤𝙩𝙞𝙤𝙣𝙖𝙡 𝙩𝙪𝙧𝙗𝙪𝙡𝙚𝙣𝙘𝙚 𝙩𝙝𝙖𝙩 𝙤𝙨𝙘𝙞𝙡𝙡𝙖𝙩𝙚𝙨 𝙗𝙚𝙩𝙬𝙚𝙚𝙣 𝙥𝙤𝙞𝙜𝙣𝙖𝙣𝙩 𝙨𝙖𝙙𝙣𝙚𝙨𝙨 𝙖𝙣𝙙 𝙟𝙤𝙮𝙤𝙪𝙨 𝙤𝙥𝙩𝙞𝙢𝙞𝙨𝙢; 𝙖 𝙨𝙤𝙧𝙩 𝙤𝙛 𝙚𝙪𝙥𝙝𝙤𝙧𝙞𝙘 𝙙𝙞𝙨𝙨𝙤𝙣𝙖𝙣𝙘𝙚; 𝙖 𝙙𝙚𝙡𝙞𝙘𝙖𝙩𝙚 𝙨𝙮𝙣𝙩𝙝𝙚𝙨𝙞𝙨𝙚𝙧 𝙢𝙚𝙡𝙤𝙙𝙮 𝙩𝙝𝙖𝙩 𝙧𝙚𝙢𝙞𝙣𝙙𝙨 𝙢𝙚 𝙤𝙛 𝙖 𝙨𝙥𝙚𝙘𝙞𝙛𝙞𝙘 𝙘𝙡𝙪𝙨𝙩𝙚𝙧 𝙤𝙛 𝙣𝙤𝙩𝙚𝙨 𝙤𝙣 𝙩𝙝𝙚 𝙨𝙤𝙪𝙣𝙙𝙩𝙧𝙖𝙘𝙠 𝙩𝙤 𝙩𝙝𝙚 𝙤𝙧𝙞𝙜𝙞𝙣𝙖𝙡 𝙏𝙚𝙚𝙣-𝙒𝙤𝙡𝙛. 𝙎𝙪𝙘𝙝 𝙞𝙨 𝙩𝙝𝙚 𝙬𝙖𝙮 𝙩𝙝𝙖𝙩 𝘿𝙤𝙗𝙨𝙤𝙣'𝙨 𝙚𝙫𝙤𝙘𝙖𝙩𝙞𝙫𝙚 𝙘𝙤𝙢𝙥𝙤𝙨𝙞𝙩𝙞𝙤𝙣𝙨 𝙘𝙖𝙣 𝙨𝙥𝙖𝙧𝙠 𝙫𝙞𝙫𝙞𝙙 𝙞𝙢𝙖𝙜𝙚𝙨 𝙖𝙣𝙙 𝙢𝙚𝙢𝙤𝙧𝙞𝙚𝙨, 𝙡𝙞𝙜𝙝𝙩𝙡𝙮 𝙥𝙤𝙨𝙞𝙩𝙞𝙤𝙣𝙚𝙙 𝙖𝙨 𝙩𝙝𝙚𝙮 𝙖𝙧𝙚 𝙖𝙩 𝙩𝙝𝙚 𝙢𝙚𝙚𝙩𝙞𝙣𝙜 𝙥𝙡𝙖𝙘𝙚 𝙤𝙛 𝙨𝙤𝙪𝙣𝙙𝙩𝙧𝙖𝙘𝙠, 𝙢𝙤𝙙𝙚𝙧𝙣 𝙘𝙡𝙖𝙨𝙨𝙞𝙘𝙖𝙡 𝙢𝙪𝙨𝙞𝙘 𝙖𝙣𝙙 𝙖𝙢𝙗𝙞𝙚𝙣𝙩 𝙚𝙡𝙚𝙘𝙩𝙧𝙤𝙣𝙞𝙘𝙨...𝙞𝙢𝙥𝙤𝙨𝙨𝙞𝙗𝙡𝙮, 𝙧𝙚𝙡𝙚𝙣𝙩𝙡𝙚𝙨𝙨𝙡𝙮 𝙢𝙤𝙫𝙞𝙣𝙜. - Mat Smith, Further.
...𝙗𝙚 𝙥𝙧𝙚𝙥𝙖𝙧𝙚𝙙 𝙛𝙤𝙧 𝙩𝙝𝙚 𝙢𝙤𝙨𝙩 𝙚𝙩𝙝𝙚𝙧𝙚𝙖𝙡 𝙩𝙤𝙣𝙚𝙨 𝙩𝙤 𝙘𝙖𝙧𝙧𝙮 𝙮𝙤𝙪 𝙖𝙬𝙖𝙮. 𝙏𝙝𝙚 𝙤𝙣𝙜𝙤𝙞𝙣𝙜, 𝙙𝙧𝙤𝙣𝙞𝙣𝙜 𝙨𝙮𝙣𝙩𝙝 𝙨𝙬𝙚𝙡𝙡𝙨 𝙖𝙣𝙙 𝙨𝙤𝙛𝙩 𝙝𝙞𝙩𝙨 𝙥𝙧𝙤𝙫𝙞𝙙𝙚 𝙖 𝙥𝙤𝙩𝙚𝙣𝙩 𝙗𝙪𝙩 𝙖𝙩𝙢𝙤𝙨𝙥𝙝𝙚𝙧𝙞𝙘𝙖𝙡𝙡𝙮 𝙛𝙧𝙖𝙜𝙞𝙡𝙚 𝙛𝙧𝙖𝙢𝙚𝙬𝙤𝙧𝙠 𝙛𝙤𝙧 𝙩𝙝𝙚 𝙧𝙚𝙨𝙩 𝙤𝙛 𝙩𝙝𝙚 𝙚𝙡𝙚𝙢𝙚𝙣𝙩𝙨. - Everything Is Noise
𝙄 𝙘𝙖𝙣 𝙘𝙤𝙣𝙛𝙞𝙙𝙚𝙣𝙩𝙡𝙮 𝙨𝙖𝙮 𝙩𝙝𝙚 𝙖𝙡𝙗𝙪𝙢 𝙬𝙞𝙡𝙡 𝙗𝙚 𝙖𝙥𝙥𝙚𝙖𝙧𝙞𝙣𝙜 𝙞𝙣 𝙩𝙝𝙚 𝙮𝙚𝙖𝙧'𝙨 '𝘽𝙚𝙨𝙩 𝙤𝙛'. - Arcana FM
𝗧𝗼𝗽 𝟱𝟬 '𝗕𝗲𝘀𝘁 𝗼𝗳 𝟮𝟬𝟮𝟭' - Photog Music
𝗧𝗵𝗲 𝗟𝗼𝗻𝗴 𝗟𝗶𝘀𝘁 - Tinnitist
Tracklisting
CD Album (LO207CD)
Simon Dobson

- Pick me up-down

Simon Dobson

- Thread

Simon Dobson

- Sleepwave

Simon Dobson

- Quiet. pls

Simon Dobson

- NOCEBO
Download Album (LO207DA)