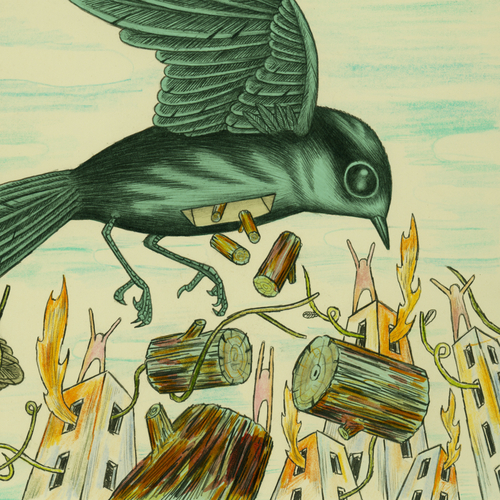 Miracle Kicker
Available Formats
Tracks
Price
Buy
Download Album (

MP3

)
10 tracks

£

7.99

Download Album (

WAV

)
10 tracks

£

7.99

Download individual tracks
From £0.99
Description
Dark Captain Light Captain - Miracle Kicker
Driven by a quest for a killer vocal harmony and a constant desire to make their hearts beat ever so slightly faster than normal, Dark Captain Light Captain descend on the world with their debut album 'Miracle Kicker'.
Click Here For Streaming Audio
The sentiment of their songs ranges from malignant and accusatory to wildly optimistic, with comparisons varying from Kings Of Convenience to The Violent Femmes. Co-produced by Robin
Proper-Sheppard (The God Machine, Sophia) and Dan Lea (By The Fireside), 'Miracle Kicker' showcases the band's penchant for spine-tingling harmonies, electronic drones, gently picked folksy
guitar and huge psychedelic endings.
Beginning life in the long, dark winter of 2006, they warmed themselves against the plummeting temperatures and ever-darkening evenings by huddling around Neil's laptop for heat. Delirious
from a constant stream of strong black coffee, tobacco and self-doubt their music was born into the world. Over time their sound evolved and expanded to a much more muscular live sound with brass section and the legendary beats of Chin Keeler of Quickspace fame giving the songs a gently pulsing almost Can like drive.
Their first single received accolades from critics and fans alike, and their follow up EP 'Circles' which came out in June 2008 was accompanied by radio support from the likes of Zane Lowe,
Rob da Bank (Radio 1), Mark Radcliffe (Radio 2) and John Kennedy (Xfm) and was featured as experimental Single Of The Month in Mixmag.
Reviews
There are countless acts out there weaving folk-tinged melodies and circling acoustic guitars with electronic chimes and beats – but you'll have to go a long way to hear it done with this amount of emotion and originality or with such delicate vocal
harmonies… A magical EP through and-through. 5/5 – MixMag
"With this confident release, Dark Captain Light Captain reassert their position as one of London's most promising acts. In just four songs, the band showcase a strong palette which relies equally on the subtlety and density of the music and the moods
and tones set by the intricate vocal layering. Circles is without a shadow of a doubt one of the strongest EPs of the year so far!"
– The Milk Factory
"Refreshing is the word here, simple, clever refreshing breezy, beautifully mesmeric, time-stopping uplifting liquid songs lovingly crafted and catching the light just right." – Organ
Tracklisting
Download Album (LOAF18D)