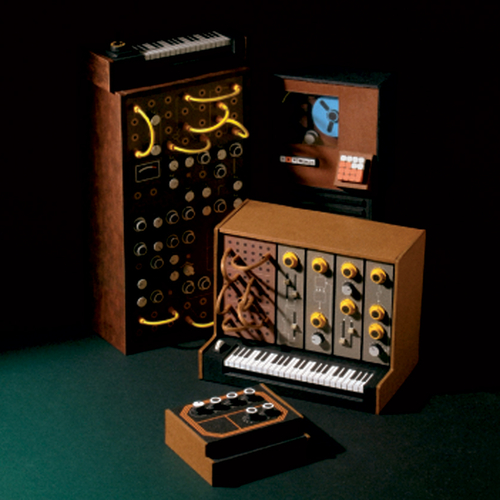 Moog Acid
Available Formats
Tracks
Price
Buy
CD Album
12 tracks

£

8.99

Out of stock

Download Album (

MP3

)
12 tracks

£

7.99

Download Album (

WAV

)
12 tracks

£

7.99

Download individual tracks
From £0.99
Description
Jean Jaques Perrey & Luke Vibert - Moog Acid
In 2001 Jean Jacques Perrey and Luke Vibert met for the first time to embark on a fantastic journey that would finally yield the remarkable 'Moog Acid' album you now hold in your hands.

In the intervening years there were many recording sessions in different studios with different musicians and days, weeks, years spent looking for the perfect Moog sound. And all the time esoteric messages from Jean Jacques concerning The book of Enoch, the future of the human race and his secret communications with dolphins were being beamed in…

For those a little hazy on music history, Jean Jacques is the electronic pioneer from France who used the methods of music concrete – namely incredibly artful tape editing – and synthesised sound to create pop masterpieces every bit as complex as the work of Brian Wilson or George Martin. He was discovered by the artist/film maker/poet Jean Cocteau, taught Edith Piaf to play the synthesiser, moved to the US where he wrote the theme for Disney World and hung out with Salvador Dali, who pronounced JJP's version of 'Flight Of The Bumble Bee' "Magnificent!" (and so it is having been created using recordings of real bees which Perrey then spent 72 hours straight editing to the correct pitch and speed).

He is perhaps best known for the track EVA which was remixed by Fatboy Slim in 1997 to become a chart hit and advert staple. He also co-wrote 'Remember' with Air for their Moon Safari album and at 77 is still performing around the world, most recently in Russia and the US.

Luke Vibert is the man behind Wagon Christ, Plug, Amen Andrews, Kerrier District and lots more, he's recorded for Warp, Virgin, Mo Wax, Ninja and Rephlex label and along with fellow Cornish man Richard 'Aphex' James and Tom 'Squarepusher' Jenkinson was responsible for revolutionizing British electronica in the early 90's.


Tracklisting
CD Album (LO64CD)
Jean Jaques Perrey & Luke Vibert

- Intro

Jean Jaques Perrey & Luke Vibert

- Schwing

Jean Jaques Perrey & Luke Vibert

- Analog Generique

Jean Jaques Perrey & Luke Vibert

- Dream 106

Jean Jaques Perrey & Luke Vibert

- Frere Jacques

Jean Jaques Perrey & Luke Vibert

- JJPLVDNB

Jean Jaques Perrey & Luke Vibert

- Ye Olde Beatbox

Jean Jaques Perrey & Luke Vibert

- Vision For The Future

Jean Jaques Perrey & Luke Vibert

- Messy Hop

Jean Jaques Perrey & Luke Vibert

- White Knight (Black In The Day)

Jean Jaques Perrey & Luke Vibert

- You Moog Me

Jean Jaques Perrey & Luke Vibert

- Outro
Download Album (LCD64)