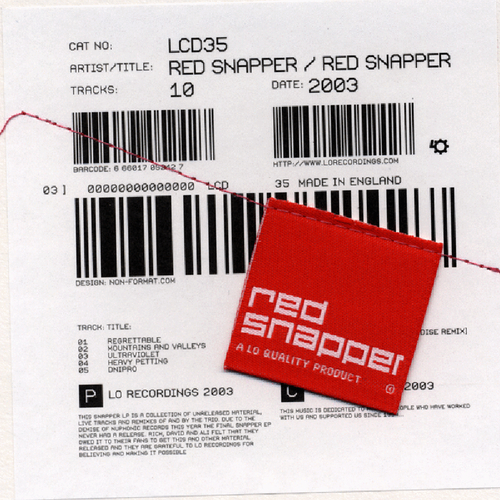 Red Snapper
Available Formats
Tracks
Price
Buy
12" Vinyl Album
10 tracks

£

10.00

CD Album
10 tracks

£

7.00

Out of stock

Download Album (

MP3

)
10 tracks

£

7.99

Download Album (

WAV

)
10 tracks

£

7.99

Download individual tracks
From £0.99
Description
Red Snapper - Red Snapper
Red Snapper lives!

When Red Snapper came to us with a 3 track ep originally scheduled for release on the now defunct Nuphonic label we said 'it's great but is that all there is?'

Much digging was done, tracks were remixed, heads were scratched and a new album was born. No vocals no drum and bass just beautiful music of which the chilled out 'Mountains and Valley's' is a good example. What's more people in the know reckon it's their best stuff for ages and we're inclined to agree. What a corker! Never has Lo sounded so mellow and groovy but as you know we're open to all things of quality. So here it is Red Snapper, another Lo Quality product.

P.S. The initial quantities of this album are available with ultra snazzy packaging featuring fabric labels made especially in Hong Kong!
Tracklisting
12" Vinyl Album (LCD35)
CD Album (LCD35)
Red Snapper

- Regrettable

Red Snapper

- Mountains and Valleys

Red Snapper

- Ultraviolet

Red Snapper

- Heavy Petting

Red Snapper

- Dnipro

Red Snapper

- Hot Flush (Sabres of Paradise remix)

Red Snapper

- Odd Man out

Red Snapper

- The Quiet One

Red Snapper

- The Tunnel (live)

Red Snapper

- 4 Dead Monks (live)
Download Album (LCD 35)
Red Snapper

- Regrettable

Red Snapper

- Mountains and Valleys

Red Snapper

- Ultraviolet

Red Snapper

- Heavy Petting

Red Snapper

- Dnipro

Red Snapper

- Hot Flush (Sabres of Paradise remix)

Red Snapper

- Odd Man out

Red Snapper

- The Quiet One

Red Snapper

- The Tunnel (live)

Red Snapper

- 4 Dead Monks (live)