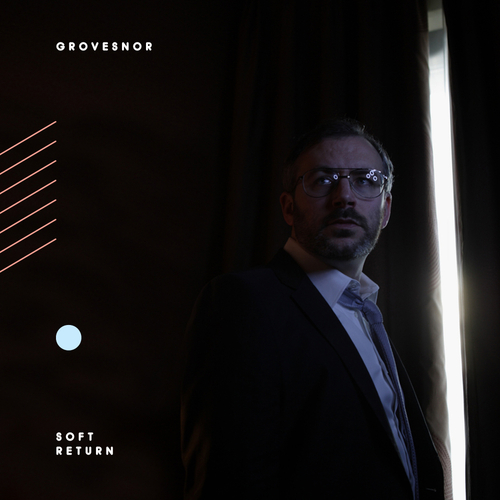 Soft Return
Available Formats
Tracks
Price
Buy
CD Album
11 tracks

£

7.00

Download Album (

MP3

)
11 tracks

£

7.99

Download Album (

WAV

)
11 tracks

£

7.99

Download individual tracks
From £0.99
Description
Grovesnor - Soft Return
Grovesnor – the troubadour who looks 'like a teacher but sings like Usher' – with a soft voice and an aching heart, making the beats to move your feet. Here on Planet Earth Grovesnor is Rob Smoughton, drummer for Hot Chip and student of the old school who loves a good tune and a crisp rhythm. "I always try to write songs with strong melody and harmony, and with an underlying narrative, but I also own a pair of dancing shoes and love to boogie. "

Although undeniably influenced by the pop music of the 80's there's something supremely modern about the music of Grovesnor. Yes there are echoes of Hall and Oates and Billy Joel but also Daft Punk and The Flaming Lips.

Grovesnor's is a unique blend of future pop – check the ticking drum machines and chill wave synths on Taxi From The Airport or the dubstep machinations of Nitemoves with its Joe Jackson on poppers new millennium vibes. Is he for real? Is this ironic retro futurism or heart on its sleeve proto soul? Well maybe he's not serious like Public Enemy or Rage Against The Machine but he's no joker… "The music is not pastiche, I love that stuff too much. Lyrically there's another thing going on. You can write a novel from another person's perspective but when you write a song and use the words 'I' and 'you' then there's often an assumption it's personal. The ambiguity of "is he for real" is where Grovesnor comes in. He's more of an anti-hero, and often makes mistakes or chooses the wrong path at pivotal moments. If there's comedy in these songs then that's just the tragedy amplified to comic proportions."

Soft Return is an audio movie where the surface sheen hides a bruised heart, like Francis Ford Coppola's film 'One From The Heart' Grovesnor's songs are full of soft focus imagery and fine performances.


Reviews
"Grovesnor" Smoughton goes on to say "I'm essentially in love with 'the night'. The romance of the neon sign through a rain soaked windscreen, the pull of desire and casual acquaintances. We're different people at night, yes more louche and stylish but often more vulnerable too."
'This is a great one. Original… We are championing 'Nitemoves' at the moment' Urb.
'Holy fuck! Nitemoves = The most unbelievable record' Mylo
Tracklisting
CD Album (LO82D)
Download Album (LO82D)
Grovesnor

- Turn Your Radio Up

Grovesnor

- Taxi From The Airport

Grovesnor

- Dan

Grovesnor

- Nitemoves

Grovesnor

- Find A Way To Stop Him

Grovesnor

- Dragon Tree

Grovesnor

- Soft Return

Grovesnor

- No Doubt About It

Grovesnor

- When I Saw You Dance

Grovesnor

- I Heard Violins

Grovesnor

- Cuckolded