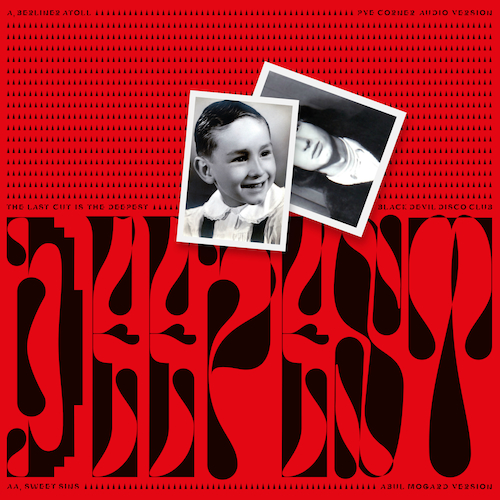 The Last Cut is The Deepest
Available Formats
Tracks
Price
Buy
12" Vinyl Single
2 tracks

£

12.00

Download Single (

MP3

)
2 tracks

£

1.98

Download Single (

WAV

)
2 tracks

£

1.98

Download individual tracks
From £0.99
Description
Black Devil Disco Club - The Last Cut is The Deepest
To follow the astonishing and final installment in the Black Devil story, it seemed fitting to ask two of the deepest and individual of producers to pay tribute to the Black Devil legacy. The result is a spectacularly immersive release.

Pye Corner Audio is known for his otherworldy take on italo disco and nocturnal explorations into dusty electronica. His version of Berliner Atoll envisions a club scene filmed by Dario Argento, wreathed in smoke, lost in mirrors. Propulsive, dynamic and irresistible.

Abul Mogard excels himself with a gorgeous voyage into the abyss. Nearly 10 minutes of weightless psychedelic exploration. Utterly absorbing and the perfect soundtrack for taking LSD in a flotation tank.


Reviews
'𝙎𝙬𝙚𝙚𝙩 𝙎𝙞𝙣𝙨' 𝙙𝙚𝙡𝙞𝙘𝙖𝙩𝙚 𝙘𝙝𝙚𝙢𝙞𝙨𝙩𝙧𝙮 𝙞𝙨 𝙖𝙘𝙩𝙞𝙫𝙖𝙩𝙚𝙙 𝙬𝙞𝙩𝙝 𝙩𝙝𝙚 𝙖𝙥𝙥𝙡𝙞𝙘𝙖𝙩𝙞𝙤𝙣 𝙤𝙛 𝙩𝙝𝙚 𝙧𝙞𝙨𝙞𝙣𝙜 𝙖𝙣𝙙 𝙛𝙖𝙡𝙡𝙞𝙣𝙜 𝙨𝙪𝙧𝙜𝙚𝙨 𝙤𝙛 𝙛𝙚𝙧𝙧𝙞𝙘 𝙖𝙢𝙗𝙞𝙚𝙣𝙘𝙚 𝙖𝙣𝙙 𝙧𝙚𝙫𝙚𝙧𝙗-𝙛𝙧𝙖𝙘𝙩𝙪𝙧𝙚𝙙 𝙫𝙤𝙘𝙖𝙡𝙨. 𝘼𝙩 𝙞𝙩𝙨 𝙯𝙚𝙣𝙞𝙩𝙝 𝙩𝙝𝙚 𝙚𝙛𝙛𝙚𝙘𝙩 𝙞𝙨 𝙖𝙡𝙡-𝙚𝙣𝙘𝙤𝙢𝙥𝙖𝙨𝙨𝙞𝙣𝙜, 𝙖 𝙗𝙖𝙧𝙧𝙞𝙚𝙧 𝙤𝙛 𝙨𝙤𝙪𝙣𝙙 𝙙𝙚𝙫𝙖𝙨𝙩𝙖𝙩𝙞𝙣𝙜 𝙞𝙣 𝙙𝙚𝙥𝙩𝙝 - 𝙗𝙪𝙩 𝙣𝙤𝙩 𝙬𝙞𝙩𝙝𝙤𝙪𝙩 𝙩𝙝𝙚 𝙦𝙪𝙞𝙚𝙩𝙡𝙮 𝙚𝙢𝙤𝙩𝙞𝙤𝙣𝙖𝙡 𝙩𝙤𝙪𝙘𝙝 𝙞𝙣𝙝𝙚𝙧𝙚𝙣𝙩 𝙩𝙤 𝙈𝙤𝙜𝙖𝙧𝙙'𝙨 𝙬𝙤𝙧𝙠. - Inverted Audio
Tracklisting
12" Vinyl Single (LO182VS)
Black Devii Disco Club

- Berliner Atoll (Pye Corner Audio Remix)

Black Devii Disco Club

- Sweet Sins (Abul Mogard Remix)
Download Single (LO182DS)